Facebook Ads
Are your marketing tactics sufficient for your business to be noticed by your target customers? Are you reaching your clients on social media platforms? If you're hesitant to answer both questions with a soft yes, then you must consider social media advertising. Facebook advertising is a good move, to begin with. Want more sales or need more traffic? Try our Facebook advertising services today.
REQUEST A MARKETING CONSULTATION
Social Media Marketing for Businesses
Facebook has more than 1.8 billion monthly active users consuming roughly an hour every day on the app. With billions of users globally, Facebook is not a social networking site you can afford to lose. Among these Facebook users, there are a lot of potential customers out there that you can reach with the help of our Facebook Ads experts!
Learning how to maneuver the Facebook Ads platform, arriving with new graphics and marketing concepts you can apply, the copy within your ads, and reaching your ideal prospects is time-consuming and extremely challenging.
Your Facebook Ads Partner
Here at Innov8ive Marketing, our main objective is to assist you to create a successful and money-making Facebook advertising campaign or to help you optimize your existing campaigns. We have conducted formal testing on all sorts of Facebook marketing techniques – we know what will run better for your needs!
Why Facebook Advertising?
Facebook is among the best courses to generate traffic to your website, build brand awareness, and drive sales or conversion rates. And what makes Facebook exceptional is that besides letting you build your own Facebook page, it likewise offers a PPC feature that you can use the Facebook Ads.
A compelling Facebook ad can help you approach thousands of possible clients. Facebook advertising is not just effective but also affordable and work-saving.
If you are not using Facebook advertising, here are some reasons why you must invest in Facebook ads and how it will help your business be super successful.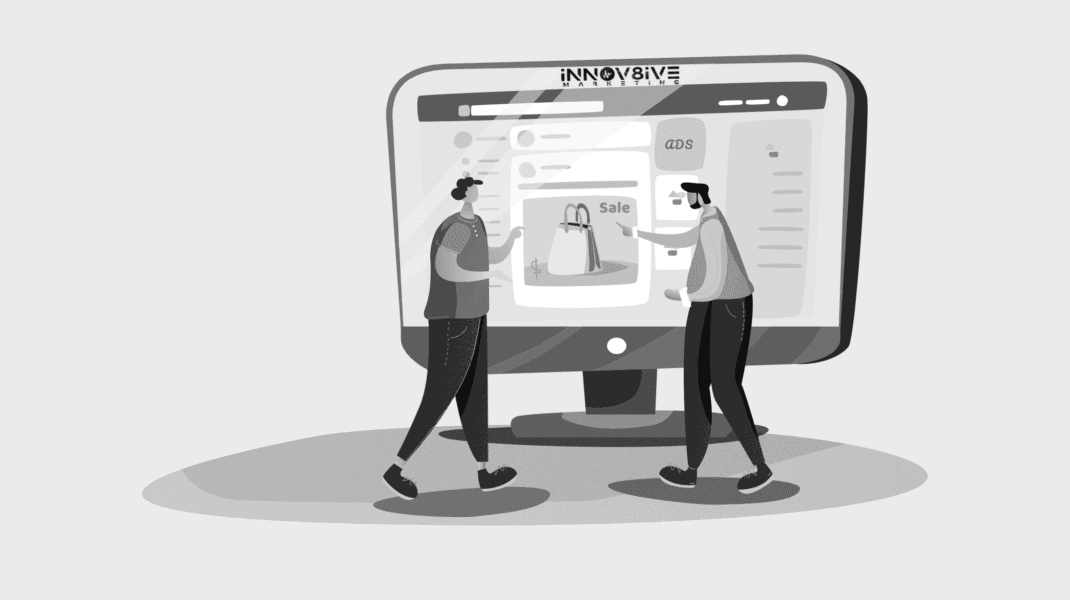 Facebook Ads Are Cost-effective
Facebook ads manage to cost a percentage of what other digital marketing networks cost. You can also set your investment and stop the ads that aren't working as expected or designate more money to the campaigns that are producing results.
Facebook Organic Reach Is More or Less Dead
Over the years, Facebook has been scaling down the visibility of business pages in user's news feeds, aggravating business owners high and low. Facebook ads are an incredibly effective and affordable way to reach new clients, market your services and products, and grow your business online.
Reach Your Target Audience
Facebook offers many detailed techniques to reach certain individuals based on their response on your website, their identified likes, involvement with your Facebook page, and other various factors of their demographic. You can generate notably granular audiences that deliver a high ROI using Facebook ads.
Win New Qualified Leads Effortlessly
Once you've gained viewers that convert like mad, you can duplicate them. This feature is called "lookalike audiences."  This enables businesses to enormously expand their advertising reach without cutting complex targeting.
Customizable and Variety of ad format
Every element of your Facebook page can be custom-built to superbness, from the cover photo to the format of your ads. With regards to the range of adoptions, Facebook has over nine formats available. These include Messenger, Stories, Video, Image, Instant Experience, Collection, Playable, Carousel, and Slideshow. These selections provide some text and visual elements to help business owners represent and market their brand.
Our Facebook Ads Strategy
Knowing Your Marketing Goal
Our marketing mission is what most people want to do when they notice your ads. Recognizing the purposes of your Facebook Ads will help you throughout your ad campaigns.
Determining Your Audiences
Reaching the right audience is essential for a successful Facebook Ad.
Generating Social Campaigns
Analyzing content that has a high level of participation with your audience. We also create and schedule regular posts. As well as monitoring engagement and communication.
Tracking Your Social Campaigns
It includes your engagement rates, click-through and leads, and your ROI on paid social campaigns.
Managing Your Organic & Paid Social Campaign
We manage your campaign by: adjusting parameters for every campaign and monitoring engagement, leads, and sales from campaigns. Aside from managing, we can also expand your audience across relevant social networks.
How Does This Work?
Once you connect and agree with our quote/package, we will send a form to fill out so we can get some valuable details about your ad campaign. After you complete the form, we'll be set to start your campaign. You'll need to add one of our team as an Admin to your Ads Account and your Facebook Page, and we will build your campaign for your approval.
Why Hire Us?
How Can an Agency Help?
Working with an agency such as Innov8ive Marketing can help in many ways. Our company is the ideal "frontman" to have when attempting to obtain the best marketing results.
Ad agencies are on the roll. We are always analyzing and identifying the most effective means to attract people and get them clicking. More click means more purchase!
We will assist you with targeted media marketing. We will examine your company's data in every section to determine where and how you market best, and what has to be carried out to sell more. We combine data and statistics with the innovative application of your features and benefits to generate ads that will attract the interest of your targets and make them react.
Every business is unique, and expert ad agencies like Innov8ive Marketing recognize that. We value quality over quantity, which is imperative for real growth. Rather than launching many average marketing strategies at you, we will help in exercising the most constructive and state-of-the-art practices specifically for you and your business.
Let Us Know How We Can Help You!
If you are not making use of Facebook, and do not want to study to associate Facebook Ad campaigns for your business, employing a reliable agency can be an outstanding solution for your business.
We're ready when you are. Call us now at 832-257-3190 for a free consultation. Or fill out the form, and one of our experts will get in touch with you. Learn how Innov8ive Marketing can help you with Facebook Ads campaigns.
Education
We have earned industry leading certifications.
Systems
Dialed in systems are the key to growing a successful company. This is especially true in your sales & marketing efforts.

Cre8ive
We generate never ending ideas.
Passion
We are passionate about your business, because your success determines our success. 

Reputation
We believe in what we do and do what we say.

C.A.N.I.
We have developed a culture of constant and never ending improvement.



"Edwin made me a logo and now they working on my website and I'm very happy with how everything is coming together. I'm excited to continue working with them in the future."
ANGEL VENEGAS MUNOZ
"The best thing I have done for my business is to choose this full service marketing agency. They do it all for my business. They pay attention to items that require consistency and keep the initiatives coming."
"My husband and I used Oscar with Innov8ive Marketing to create our custom business logo, letterhead, and email address for our small business. We are truly satisfied with the outstanding outcome."
"I started a business, 3generationfencing about 9 months ago and had no idea how to truely market the business. Clark and his Innov8ive Marketing company have gone above and way beyond my expectations. I will be a loyal customer for years to come and highly recommend their services."
READY TO TAKE YOUR BRAND TO THE NEXT LEVEL
REQUEST A MARKETING CONSULTATION