Whether you've heard a brief background about PPC marketing and are interested to know more, or you have decided that you need to use PPC to advertise your services and products but aren't certain where to begin, you're on the right site! Read on to learn more about Pay-per-click Marketing.
What is PPC?
PPC (pay-per-click) marketing is a sort of online advertising in which advertisers collect charges when an audience clicks their ads. Advertisers bid on the approved cost of a click about the platforms, keywords, and viewer type in which it emerges.
The two most common types of PPC advertising are: flat-rate, where the advertiser and publisher (search engine) agree upon a set rate that will be paid for every click) and; bid-based, in which advertisers sign a contract to enable them to compete against other advertisers in separate auctions.
Contrary to standard SEO practices, which can need more time and effort, a business can begin somewhat promptly with PPC advertising. PPC advertising commonly generates a considerable volume of data that helps companies distinguish keywords that produce the most beneficial click-through and conversion rates.
A conversion rate pertains to the percentage of clicks that produce desirable actions (usually website purchases). The average PPC conversion rate across all industries is roughly 3.75% for search. And it is at approximately 0.77% for display networks. This conversion rate will vary depending on the industry. A compelling PPC campaign needs in-depth research and a careful strategy to avoid errors that produce low conversion rates and can eventually prove rather pricey.
REQUEST A MARKETING CONSULTATION
What are the Major PPC Platforms?
Many platforms provide text, display, and shopping PPC ad placement; however, there are three main platforms you can't neglect:
Google Ads
Google Ads is Google's basic PPC marketing platform. Google offers a pay-per-click campaign on its Search Network and searches partner sites. Most businesses launch their PPC campaign on Google Ads because it grants them access to the largest viewers of potential customers and clients. Advertising on YouTube is available through the Google Ads platform.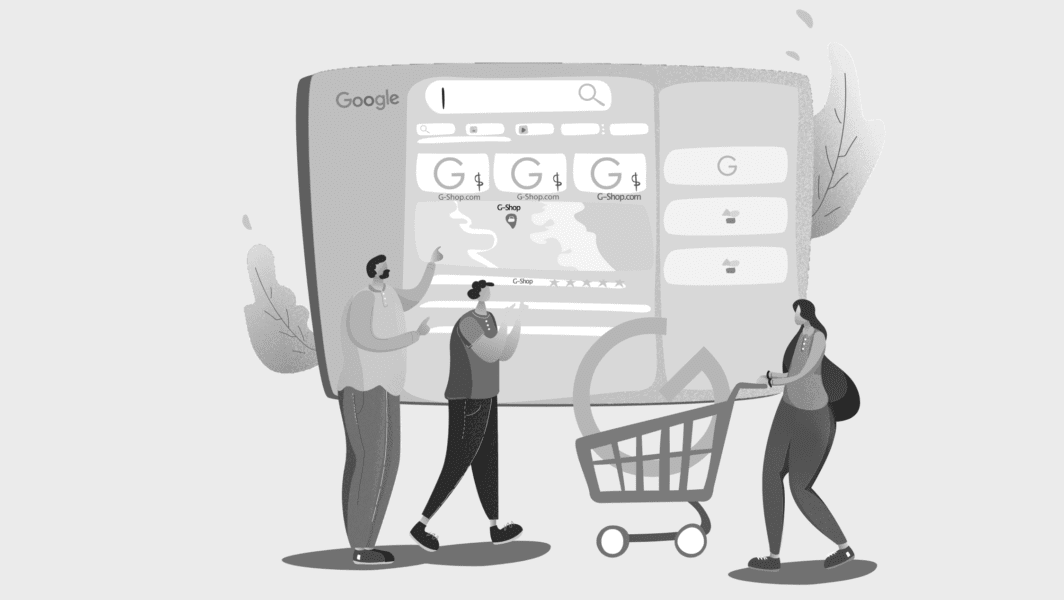 Microsoft Advertising
Just like Google Ads, Microsoft Advertising is a pay-per-click platform displaying ads on its Search Network (Bing.com) and search partner sites (including Yahoo.com), as well as original advertising on Microsoft-owned web properties (like MSN). Microsoft Advertising is hugely keyword-based advertising. As of 2017, Microsoft Advertising has 137 million unique desktop searchers on the Bing Network.
Amazon Advertising
According to a 2018 survey, around 46.7% of US internet users began product searches on Amazon versus 34.6% who use Google first. Amazon Advertising is the fastest-growing PPC platform for e-commerce merchants. Amazon allows advertisers to design display- and shopping-focused promotions that market their products on Amazon's shopping network.
 And within each of these platforms are different ad formats, including:
Display Ads

Video Ads

Gmail Ads
How Pay Per Click Works
We are all familiar with Google search, but have you noticed the websites displayed on the top of the first page?  Those are the companies that invested to have their site placed there since they know that most users will only skim the first page to obtain a website to work in partnership.
 The way that PPC works mostly the same and it is a rather simple project:
Register for an advertising account with the platform.

Create ads (and choose the appropriate targeting by combining keywords or viewers, and others).

Establish the maximum price you are willing to pay for every click.

Your ad proceeds into an auction with other advertisers who are bidding on the corresponding keywords.

The auction decides the order in which the ads are displayed.

You pay when a user clicks your ad.
 In a PPC campaign, you placed the budget you want to pay monthly and the maximum you are prepared to pay for every click, which concludes the times the ad will run per month. This allows you to manage your monthly digital marketing advertising investment.
Benefits of PPC
There are several convincing benefits of PPC marketing. Whether you're striving to persuade your manager or a customer about the effectiveness of Google Ads, there's a compelling petition to be done.
Here are only seven formidable benefits of utilizing PPC
Reach audiences cost-effectively

User Data Helps Fine Tune Your SEO Strategy

Specific Targeting

Get a Second Chance With Missed Connections

You're in Control

Lead to positive ROI

Not Algorithm Dependent
Above all, pay-per-click marketing is fit for everyone:
 It's great for searchers – Research reveals that searchers click on paid search ads more frequently than any other form of online marketing. This suggests that people don't bother being marketed to, so long as the services and products advertised match the searcher's needs.
It's great for advertisers – Advertisers are granted unique ways of establishing their message in front of a viewer who is intently and particularly looking for their product. Since searchers expose their purpose through their search query, advertisers can estimate the kind of traffic that emerges from search engine clicks.
It's great for search engines – PPC allows search engines to accommodate advertisers and searchers simultaneously. The searchers contain their user-base, while the advertisers offer them with their revenue stream. Mainly, the engines want to give consistent results, while extending a highly targeted, revenue-driving marketing channel.
Possible Downsides of PPC Marketing
As there are clear benefits to PPC, the advertising form does occur with possible drawbacks advertisers must be cognizant of.
Cost
Depending on your engagement and the business you serve in, PPC advertising can be extremely pricey.
Time investment
You can't simply build your PPC campaigns and leave them. You have to spend time optimizing and upgrading to generate the ideal results.
Ads disappear once campaign ends
PPC ads stop appearing when you stop paying. And when your ads get suspended then the leads and the purchases that appear with it will end.          
Can generate junk traffic
There are circumstances when some advertisers will intentionally click on their competitor's ads only to accumulate the latter's interests. The number of clicks may look good as for figures and statistics, but it's going to be critical for your investments and intentions.
Is PPC A Good Fit for Your Business?
To know whether PPC is suitable for your business, you will have to evaluate if you can afford to be connected. Do you have the budget for paid advertising, or do you want to concentrate on expanding your organic reach? If you have a paid budget, is it enough to pay the complete amount on PPC, or are there other paid approaches you need to support?
PPC is a useful alternative if you need to reach people who are tirelessly looking for articles related to your business. If you choose to generate a PPC campaign, your budget will be determined by the types of services/products you want to push interest to, your competition, and your audience.
How Much Does PPC Cost?
In 2018, the average small and medium-sized businesses pay between $9,000 and $10,000 on PPC each month. The average cost per click in Google Ads is between $1 and $2 on the Search Network. The priciest keywords in Bing Ads and Google Ads take $50 or more per click. Pricing is variable for PPC and always fluctuating.
As more businesses realize the perks of PPC marketing, it has become compulsory for advertisers to exploit every decrease of value from each click. That can be accomplished by maximizing the value per conversion or inflating the conversion rates.
Find A PPC Advertising Company In Houston, Tx
If you want to start using PPC marketing for your business, let Innov8ive Marketing help you receive the highest ROI. We know what it needs to run an effective PPC campaign and know what it demands to generate conversions.
We know the most suitable applications and channels to target. You can have us explain your options when you call 832-257-3190 for a free consultation.
Education
We have earned industry leading certifications.
Systems
Dialed in systems are the key to growing a successful company. This is especially true in your sales & marketing efforts.

Cre8ive
We generate never ending ideas.
Passion
We are passionate about your business, because your success determines our success. 

Reputation
We believe in what we do and do what we say.

C.A.N.I.
We have developed a culture of constant and never ending improvement.



"Edwin made me a logo and now they working on my website and I'm very happy with how everything is coming together. I'm excited to continue working with them in the future."
ANGEL VENEGAS MUNOZ
"The best thing I have done for my business is to choose this full service marketing agency. They do it all for my business. They pay attention to items that require consistency and keep the initiatives coming."
"My husband and I used Oscar with Innov8ive Marketing to create our custom business logo, letterhead, and email address for our small business. We are truly satisfied with the outstanding outcome."
"I started a business, 3generationfencing about 9 months ago and had no idea how to truely market the business. Clark and his Innov8ive Marketing company have gone above and way beyond my expectations. I will be a loyal customer for years to come and highly recommend their services."
READY TO TAKE YOUR BRAND TO THE NEXT LEVEL
REQUEST A MARKETING CONSULTATION