Houston Video Production
These days, video production is an important form of content that all content creators or business owners have to understand. Video content helps establish lasting impressions about a brand, company, or product in the customer's mind – therefore, it isn't to be overlooked.
Video has surfaced as the ideal channel to absorb information. It's the most appealing type of content and most gratifying to the companies as well.
As mentioned by several video production companies, way back, video production was given to experts working in the perimeter of a studio for just the most particular of clients. Today, individuals, small businesses, and large companies get the message out about their brand with video production. Small startups and individuals are marketing their brands on social media.
You do not need expensive apparatus, 30-day drafting schedules, or professionals from Film School to do a video campaign. It is not just that the formats have developed, but also the platforms have upgraded remarkably.
REQUEST A MARKETING CONSULTATION
What is video production?
Video production is a general term that comprises the whole act of producing a video. The video being discussed could be a marketing video, YouTube video, music video, documentary, or a film. A well-produced video differs from an excerpt because the former is the completed, ultimate product while the latter is just the raw content designed for that product. There are three video production stages involved in creating all custom video content.
The 3 Stages of Video Production
The fundamental process can be divided into three subcategories.
Pre-production

Production

Post-production
These three subcategories include all phases of video production, from the time a concept springs up into your mind to the moment the film is published to the public.
Pre-production
First, pre-production begins when script formulation starts. It involves everything that takes place before shooting starts: Project kickoff, Production scheduling, Script development, Storyboards, Graphics concepts, Location scouting, and more. Anything and everything about a video production's strategy is organized from scratch derived from the script. Therefore, everything should be ready before the main photography starts.
Production
The production stage is when the video is made. This is where you put all your thorough planning into work – this is where you begin shooting your video!  Whenever production begins, a camera team will start to record scenes in films or cuts. In the production stage, the team will also concentrate on angles, lighting, and spot to produce the video production as interesting as possible. In some productions, a crew of graphic artists will design graphics and arrange sections to represent the background of a movie or a news broadcast.
Post-production
Post-production encompasses all operations that are made after the actual filming of the video has been completed. This involves combining each scene, syncing video and audio, editing, and adding special effects.
Many from the realm of film-making regard this process to be the most crucial. This is particularly true of movies that need visual effects, or animation movies. Effort, time, and resources must be dedicated to this stage of the video production process.
Types of Videos
Video doesn't only convey a message; rather, the video presents the meaning – video is the utmost show and tell. A strong video penetrates technology, carrying messages as a form of entertainment, across the globe, day and night.
Commercial / Brand Films
The Brand Film/Commercial is the most common type of marketing video. Commercials are excellent for illuminating a spotlight on your products/services. You can display the quality you offer the society and they are exceptional for building awareness and increasing possibility.
Interview
Interview videos normally feature one or two individuals explaining inquiries. The interviewee must either be someone your viewers already know (a celebrity, an influencer, a public speaker, and others), or someone they are not familiar with, though would like to hear from. This type of video is great for sharing your company's worth and associating yourself with an exciting or inspirational person.
Animations Videos
Through animation, a new aspect of your company is formed. Animation produces visual and emotional provocation, in addition to that "surprise" factor that makes your video content interesting. Flaunt your brand originality with some minute video content.
Explainer Videos
Explainer Videos are a broad term we use for videos in which the ultimate purpose is to inform the viewers about a service or product. It can pinpoint either what you have or how your business/company works. This will provide potential consumers more understanding and ideally explain any concerns they may have regarding the product. It also enables the company to showcase its distinct features and selling points while building reliability.
Product Reviews
Product review videos are your business's opportunity to prove its commitment. Nothing markets a brand better than flaunting it in action to point up its values. According to research from MediaPost, 57% of customers are more confident in making a purchase online after watching a product video.
Video Emails
Marketers aren't the only ones adopting video to reach their quota— merchants as well. A powerful sales email video is approximately one minute long. Introduce yourself, explain why you're keeping in touch, and request a quick visit to further clarify your goals.
Educational
Educational videos are ideal for showing your company's perspective on a subject and establishing your credibility around that concept. They are different from brand films in that the core is highly on educating your clients on a certain point, instead of conveying your brand's message.
Event Video
Event videos vary in time from 30 seconds to 3+ hours and can be a "roundup" or event preview video or a multi-camera production. This type of video is used for meetings, performances, lectures, and other live events.
Why is a Video Production Process Important?
Dependability – Regardless of your filming venue, there are countless moving items that need to work together. Knowing these entire details is critical, and it is necessary to do it in a logical, systematic way.
Plausible Timeline – Video production takes time. An organized and certified video process can help you progress from an approximation to a precise projection.
Reasonable Pricing – Most production costs are based on time. The more hours needed to outline, film, and edit the project, the higher it costs. And when you add more days or another member, that adds to the overall time (and rate).
Fewer Revisions – When you lock in your goals, explain the details in pre-production, and then apply them to meet your vision, you shouldn't end up with multiple revisions at the end of your project.
How Much Does Marketing Video Production Cost?
Outsourcing marketing video production costs can range anywhere from $1,200 for a standard video, to $50,000 for a high-quality video, while in-house solutions normally operate less than $5,000 (for the material).
Video production costs will depend on the type of video that you want, crew, the location, tools, person involved, pre-production, sound, editing, and suchlike. The safest plan to estimate your budget or to have an exact quote from a production firm is to draft a video production outline. An outline enumerates the what, why, how, when, and where of the video you want to be produced.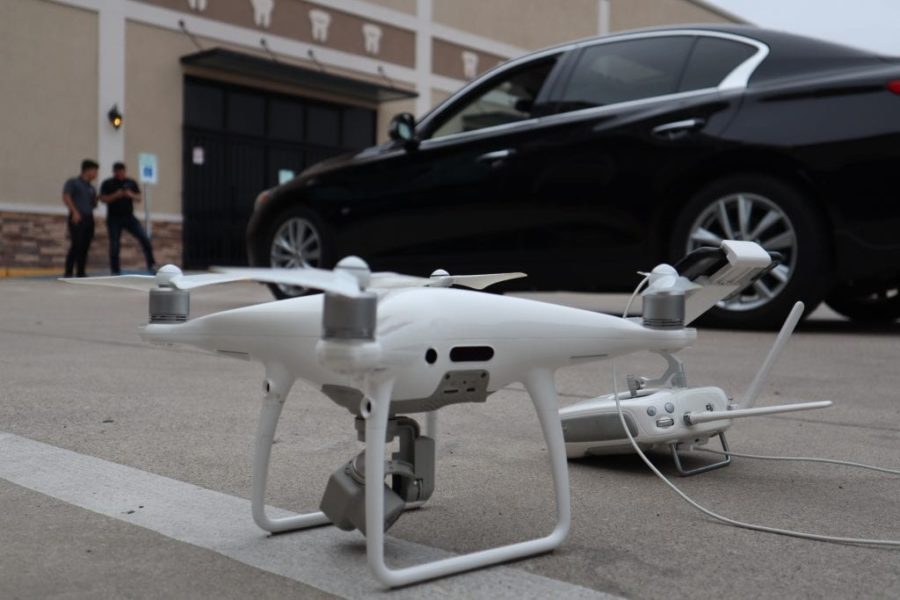 Best Practices for Video Marketing
It is advised that you produce engaging video content regularly as part of your marketing plan. Producing a series of videos weekly or monthly strengthens your brand reputation and keeps your customers waiting for your next video. They'll start to anticipate seeing content from you.
Creating one video has its advantages, but producing multiple with consistent ideas and components is the best practice.
Video Production Near Me
Innov8ive Marketing is a quick-witted video production group operating in partnership with you to convert your ideas. As among the most creative video production firms in Houston, our process begins by constructing an original concept for every project. Next, we outline, shoot and edit before proceeding on to the charm of post-production.
We offer good costs, great service, and professional aerial photography/videography custom-made to your needs and demands.
So give us a call, and let's work together!!
Education
We have earned industry leading certifications.
Systems
Dialed in systems are the key to growing a successful company. This is especially true in your sales & marketing efforts.

Cre8ive
We generate never ending ideas.
Passion
We are passionate about your business, because your success determines our success. 

Reputation
We believe in what we do and do what we say.

C.A.N.I.
We have developed a culture of constant and never ending improvement.



"Edwin made me a logo and now they working on my website and I'm very happy with how everything is coming together. I'm excited to continue working with them in the future."
ANGEL VENEGAS MUNOZ
"The best thing I have done for my business is to choose this full service marketing agency. They do it all for my business. They pay attention to items that require consistency and keep the initiatives coming."
"My husband and I used Oscar with Innov8ive Marketing to create our custom business logo, letterhead, and email address for our small business. We are truly satisfied with the outstanding outcome."
"I started a business, 3generationfencing about 9 months ago and had no idea how to truely market the business. Clark and his Innov8ive Marketing company have gone above and way beyond my expectations. I will be a loyal customer for years to come and highly recommend their services."
READY TO TAKE YOUR BRAND TO THE NEXT LEVEL
REQUEST A MARKETING CONSULTATION